Other Ways to Give
Planned Giving: This method enables people to include Camp Stevens in their will. For information, please contact Beth (760) 765-0028
Recurring Gifts:  Automatic monthly or quarterly giving is a simple way to make a substantial annual gift to Camp Stevens while evenly distributing its impact on a family budget. Consider: An annual gift of $300 results through automatic monthly gifts of $25. Set up your recurring donation now.
Matching Gifts: Many employers will match your gift to Camp Stevens. Please ask your employer or, if you are retired, your former employer, about matching gifts. Check with your employer's human resources office to obtain a matching gift form. Then complete the form, send it Beth Bojarski's attention at Camp Stevens, or contact her for further information, (760) 765-0028, beth@campstevens.org.
Gifts of appreciated securities are perhaps the most advantageous means of supporting Camp Stevens. The donor may deduct the full market value of the securities on the date of transfer — up to 50% of adjusted gross income, but with a carry-over provision for five years, should the transfer value exceed the 50% figure. For example, assume that many years ago you purchased securities for $2,000 that are now worth $20,000. For an actual cost of only $2,000, you can contribute $20,000 to the campaign. And the tax savings for the year very likely will exceed the $2,000 cost basis.
Gifts of real estate property provide wonderful opportunities for some donors. However, it is essential that the donor give permission for Camp Stevens to sell the property. When the sale has been completed, the proceeds will be credited in the donor's name as a gift to Camp Stevens.
Gifts of insurance policies can, on occasion, prove beneficial for both the donor and Camp Stevens. Assume that many years ago you purchased a $100,000 whole-life policy and named a child as beneficiary. If that child is now self-sufficient, you might consider assigning the policy to Camp Stevens. Camp Stevens would receive the cash surrender value of the policy.
Volunteer Work Days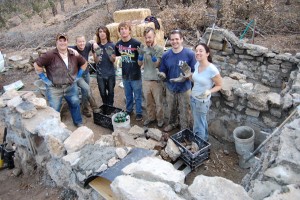 Do you have a youth group or other organization interested in contributing to Camp Stevens? We welcome volunteers, and offer special meal/overnight rates for groups interested in volunteering at Camp Stevens.
We appreciate volunteers who come with a willingness to work and positive attitudes, willing to work on any number of projects. Projects may include outdoor projects like weeding, trail maintenance, small building projects, or indoor ones like canning and preserving or stuffing envelopes: We cannot guarantee any specific project, due to staff, weather, and other external circumstances, but will work with your group leader to make sure your time at Camp stevens is a worthwhile and fulfilling experience. We strongly prefer that all volunteers be 14 years or older, and that any youth under 16 be accompanied by adults with a ratio of 1 adult to 8 youth.