Camp Stevens has a variety of programs running when most camps shut down for the "off-season."  From autumn until late-spring, we offer environmental and outdoor education programs, youth discovery retreats, and experiential programs designed specifically for teens.  These programs are open to all educational institutions – public or private, Waldorf or Charter, home school or boarding – and can help create a program to suit your needs.  We also operate as a Retreat Center, so your church youth group, club, or other non-profit and religious entities can rent our facilities to run their own private programming.
For information on dates, or more details about our programs, please contact Program Director Joe Kiefer at  (760) 765.0028 or joe@campstevens.org.
---
Educational School Retreats
A typical day begin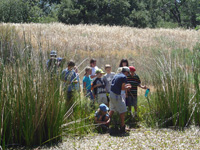 s with a healthy and delicious meal made from scratch with organic and locally grown ingredients. After breakfast, the students are given time for personal reflection, and then move into a large group interactive lesson about a specific ecological topic. The students then split up into small exploration groups and head off on the trails.
Exploration groups are lead by two experienced staff members who plan and facilitate the majority of the lessons and activities. During exploration time, instructors lead hikes, nature awareness activities, environmental science lessons, garden and compost workshops, personal reflection, and group discussions. The small size of the groups allows the instructors quality opportunities to interact with the students individually and answer questions effectively.
Evening programs are an opportunity for the students to connect with themselves, others and nature. Themes and activities include fire building, astronomy, outdoor cooking, campfires, sunset hikes, folk dancing, theater games, night sensory activities and, of course, s'mores! Each evening ends with a Community Gathering where student have a chance to wrap up the day together with songs and stories. Prices vary based on number of days and meals, as well as days of the week.  For every 15 students, one teacher or chaperone may attend for free.
---
SEEDS: Eco-Logic for Teens
This experiential outdoor education for junior high and high school students is designed to fit into the busy schedules of today's teens. Our two-day/one-night programs feature programs customized to each class, and include outdoor exploration time, meals, and service projects for a hands-on educational experience. It's the perfect way to empower, educate and reward your students in a dynamic and enriching outdoor classroom. In advance of your retreat, our staff works with your school to develop a program that meets your specific academic requirements, classroom personalities, and student interests.